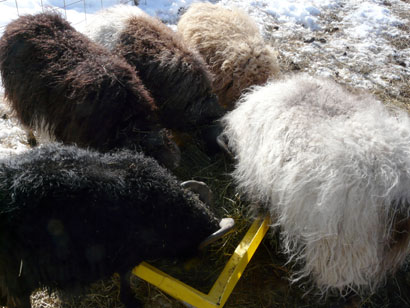 At one time, the hills in and around Hector had many sheep grazing. The ground in these parts, while not being of the production value that dairies look for, remains well suited to sheep. The old timers knew this and produced livestock that would perform well. Sheep always fit the bill. In our effort to make a life of farming for ourselves, we look back to see our future. Somehow when ruminants come into the picture it opens up all sorts of opportunities for turning solar energy into useful resources for nutrition and fiber. Also, our farm fertility cycle can move toward being more of a closed system. With all that farming rationale aside we find ourselves as burgeoning sheep farmers.
We had an opportunity in late winter 2009 to procure a small starter flock of Icelandic sheep, a breed we have come to realize supports our goals of bringing our fields back to productivity while raising a thrifty animal. Icelandic sheep are a small breed dating back to when the Vikings landed on the shores of Iceland. It remains one of the purest breeds of sheep in the world. While not being the "oldest" sheep breed, it's integrity of origin has been maintained. Follow the link to the Icelandic Sheep Breeders of North America to learn more about this unique breed. What we love about sheep of this breed are their large rumens. These guys are more horizontal in stature with their wide forage processing system. They utilize tough ground, which is good, since we are still in the early stages of renovating our pastures to provide more highly nutritional fodder.
With Meg's interest in all things related to fiber (no, not bran cereal) our flock will provide many forms of wool products to satisfy the discerning fiber artist. We will be exploring different levels of post-shearing processing from roving, batts for quilting or felting, pelts for throws, and finished yarns. The meat from Icelandic sheep is quite flavorful, complementing our fiber production goal by offering grass fed lamb and mutton to our community.